The SPRAY BOOST MyDailyChoice - HempWorx
02/07/2018
Author: Robert POLO - Client Affilié Executive HempWorx - MyDailyChoice
BOOST: From Energy to Pure State!
Discover the BOOSTER which BOOST
Vitamin B12 is a water-soluble vitamin that belongs to the B vitamin family. It is important for DNA synthesis and the maintenance of healthy nerve cells.
According to many health experts, this essential micronutrient affects the development and support of red blood cells, nerve cells and the normal myelination of nerve cells.
Vitamin B12 also contributes to the production of DNA, RNA and neurotransmitters.
BOOST Energy Nutraceutical Spray is rich in vitamin B12, natural caffeine from coffee beans and green tea extract to give you more energy quickly thanks to its bioavailable formula.
Whether you are an athlete looking to perform during your training sessions or others, with our BOOST Nutraceutical Spray you will get the daily boost you need!
List of ingredients in BOOST Nutraceutical Spray
1). THE NATURAL CAFFEINE OF THE COFFEE BEAN
When it comes to finding a healthy energy product, MyDailyChoice stands out with Boost.
Millions of people currently consume energy products containing synthetic caffeine produced in the laboratory.
The caffeine in these products is rapidly absorbed by the digestive system, which means energy.
faster, but it also means an even faster loss of energy.
BOOST Nutraceutical Spray uses natural caffeine from coffee beans to give you fast energy, without shaking or irritation.
According to many experts, natural caffeine improves various aspects of brain function.
This includes memory, mood, alertness, energy levels, reaction times and general cognitive function.
2). VITAMIN B12
Vitamin B12 is your body's source of energy.
A vitamin B12 deficiency causes symptoms of fatigue. By taking a vitamin B12 supplement, you improve your energy level.
Vitamin B12 deficiency can lead to many diseases such as
- A great fatigue
- From weakness
- Abnormal weight loss
- Hypercholesterolemia
- Depression
- Asthma
Why do we need vitamin B12?
B12 is needed to convert carbohydrates into glucose in the body. This leads to energy production that fights fatigue and lethargy in the body.
Vitamin B12 helps in the healthy regulation of the nervous system and reduces depression.
B12 helps maintain a healthy digestive system while protecting you against heart disease by improving bad cholesterol levels, protecting against stroke and high blood pressure.
It is also essential for healthy skin, hair and nails. B12 contributes to cell reproduction and constant skin renewal.
Vitamin B12 can help protect against breast, colon, lung and prostate cancer.
SPRAY BOOST also contains Green Tea and Resveratrol.
COMPLETE COMPOSITION :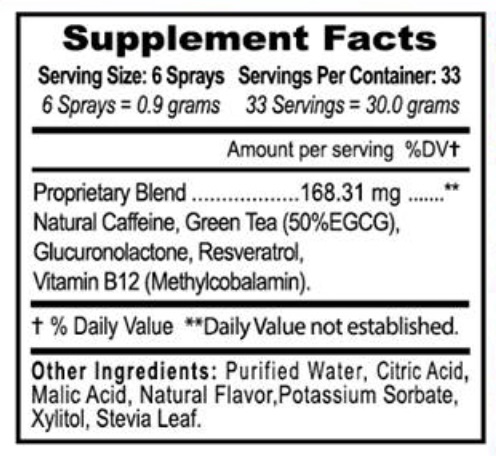 USE : 6 strokes of Spray every time you need it
You can buy this SPRAY BOOST on the company's online shop :