Alexander RICHTER
Creator of the ANTARES TRADE platform
Here is his story:
Good morning to everybody!
Recently my creation, the ANTARES TRADE platform, has caught the attention of many people across the world, which means, with my humble personality start to arouse the interest of many future and current Antares partners.There are even several rumors about me already, and it's pretty fun to watch.
Instead of relying on fake news from the net, listen to my testimonial instead and do your own research.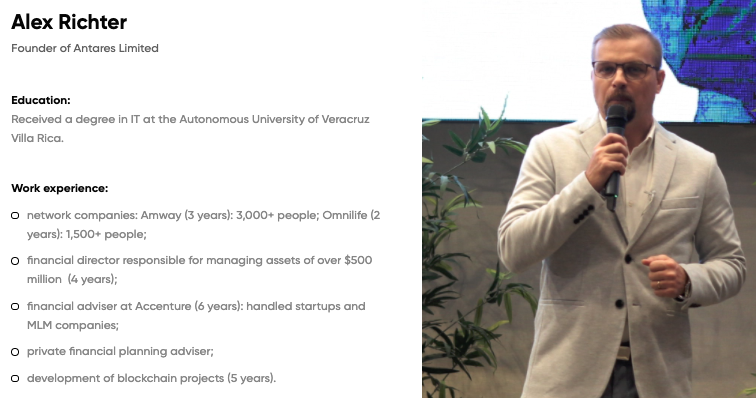 ⠀
Let's get to know each other. My name is Alexander Richter, but my friends and
associates call me Alex. I am 43 years old, I was born on November 25, 1976 in
Latvia, near Riga. When i was 11 years old year 1988, our family moved to Mexico for family
reasons. It was a difficult time for me, I had to learn the language, get used to the
Mexican mentality and its way of life. However, a year later i went to school and
then I entered the Faculty of Information Technology at Universidad Autónoma de
Veracruz Villa Rica. ⠀
While still studying at college, I got interested in MLM, and it was one of the most
fascinating times of my life. I devoted all of my free time to my favorite sport, soccer, and promoting Amway, a multi-level marketing company.
Despite of my youth, I managed to form a team of more than 800 people, most of
them were students, and several of my structures were outside Mexico, Argentina, Chile and the United States. ⠀
Back then, I still couldn't fully understand the power of MLM, I realize it much later, but still learned a few lessons. I had to go door to door, I have often heard the word "no" and many other words that I will not say, I think you understand what I mean. I learned to speak in public, to persuade others to join the company, to be a personal psychologist, to solve various business problems.
At that time, I had a great desire to create my own business, an ideal business. I
dreamed that I would talk at the stage with a microphone that thousands of
people would listen to me. I came in a very poor family and i even seen people even poorer than my family, I wanted to do something to make these people live better.
At the same time, I joined another multi-level marketing company Omnilife, which
is very popular in Mexico and Latin America, and i also got good results as a
young man.
After graduating from college and graduating with a bachelor's degree, I stopped
MLM business, although I was very attracted to it, and i decided to work as a contract employee as a planning consultant financial institution at a large financial institution at the time called BBVA Mexico. After working there for 3 years, I was offered the position of financial consultant at Accenture.
My family was very happy with this offer and blessed me.
At Accenture, I specialized in consulting companies that use affiliate programs in
their development from the inside out, I saw the power of affiliate programs and the potential of such businesses in the near future. Some of these companies were multi-level marketing companies and I had the opportunity to experienced this world from the inside out, had a different take on this industry and had some serious ideas about it.
I've worked with a lot of startups as well, and hundreds of great ideas from those
startups. They eventually got funding through my work, and there were even more
ideas that weren't funded and still had no market demand.
After working at Accenture for almost 6 years, I got bored there.
Working in administration was not what I wanted, I wanted to communicate with other people. I wanted to convince them, educate them and lead them. So I got into private consulting, where I helped different people build a personal investment portfolio and choose a financial strategy.
The next place I worked was the CFO position; It was offered to me by one of my
clients, whom I met during my private practice. I have worked in assets and managed funds over $ 500 million.
I spent 4 years in this position and the experience I gained there was the key to my
becoming a professional. I have made transactions worth millions of dollars, learned to make difficult and sometimes uncompromising decisions. I had a very good mentor and I was also a good student. At that point, I achieved what I wanted
in life.
My experiences in multi-level marketing, private consulting and my management
experienced played a decisive role in this regard. I wanted to run my business, it had to be a mix of everything I could do.
Since then, thoughts about my own business have not left me for a single day of my life. In 2013, my financial affairs allowed me to retire and take a break, so I could look around and understand how I should proceed.
I decided to dedicate the year to this, I traveled a lot and I was interested in trends.
It was then that I first heard about cryptocurrencies and blockchain technology. A few months later, I was a fervent follower of this industry and the following years I devoted myself to professional immersion it's a new world for me.
I studied currency trading, i bought a lot of bitcoin and my life was literally seething. Since 2015, my team and I have started to developed our blockchain projects. I managed to sell some of them very profitably. The digital sphere couldn't miss me and I couldn't miss it, we became friends and since then we have been working together. ⠀
During this hectic time, I finally decided what I was going to do for the next 10 years. My dreams coincided with my possibilities. My brilliant desire to start my own business coincided with my professional experienced. Dreams about the business, which could bring millions of people to financial freedom in the future, dream come true.. ⠀
All great things are never done on their own, and behind every great business there is always a team of people. And in my life I have had the great honor of becoming a person able to bring together several dozen very talented and dedicated people in one place.
In 2017, my team and I finally started building the Antares platform, allowing us to combined all our previous experiences. Investments, startups, digital technologies, big money management, the cryptocurrency industry, MLM and communications around the world have allowed us to introduce Antares to the world in 2020.
There is a saying that I really like:
"Nothing can stop an idea whose time has come".
2020 is the year of ANTARES TRADE. Now is the time.

SOURCE: Alex RICHTER, C.E.O of ANTARES TRADE
You can close this page
and keep reading
on the previous page.